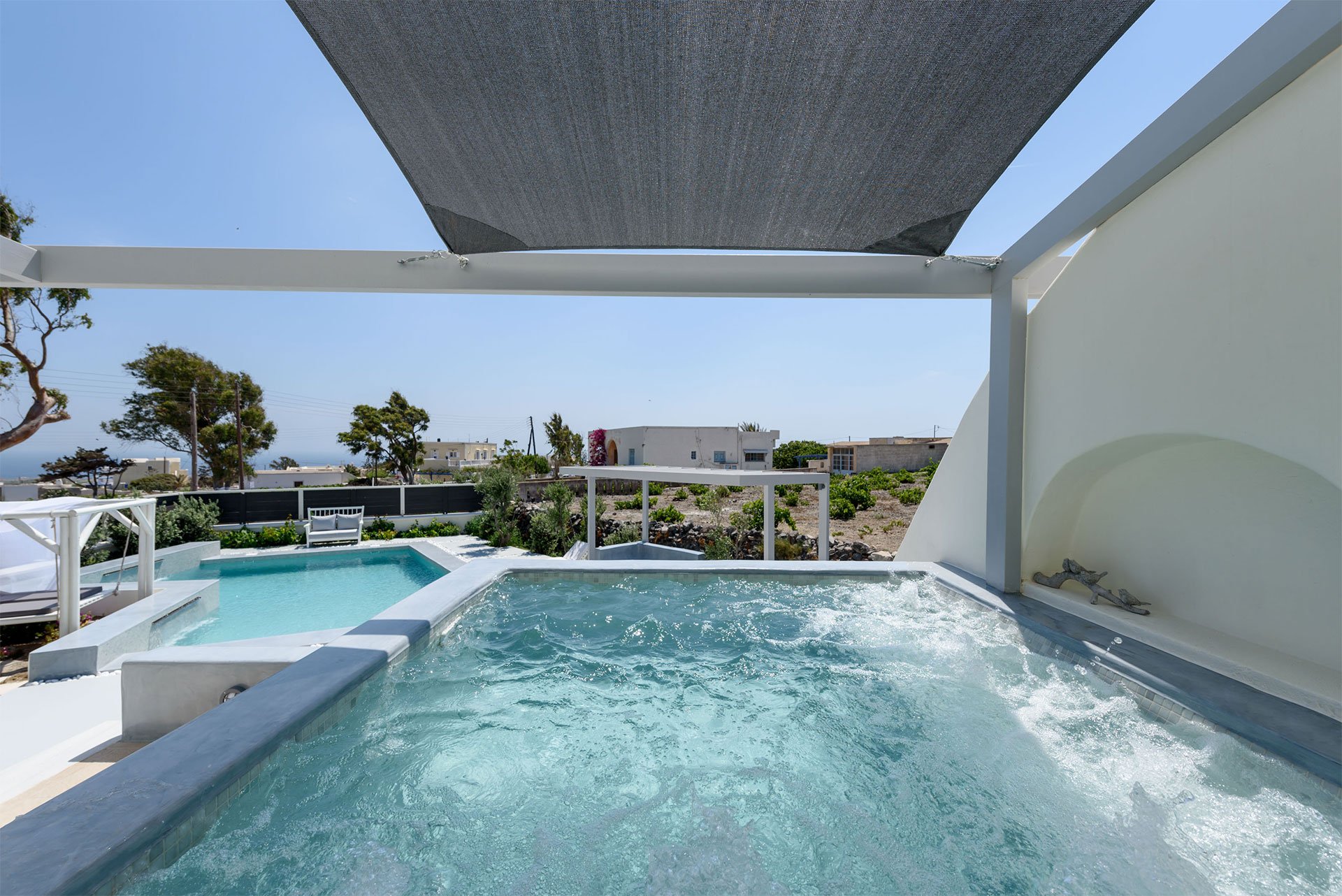 Family Villas Santorini
Santorini has many beautiful holiday villas many with private pools and amazing views.
We have put together a selection of holiday ho,mes that are ideal for family vacations.
Should you want to be close to one of the islnads famous black beaches or maybe relax in a traditional village location.
Santorini has something everybody.
Santorini Family Villas with beach locations
For many families a beach is very important, Santorini has several excellent black sand beaches with excellent tourist facilities including watersports and bars/restaurants.
The areas of Perissa, Perivolos, Kamari and Agia Paraskevi are the most popular beach resorts of Santorini.
The resort of Kamari and the surrounding area now offers a good selection of private villas with swimming pools, also several small complexes of villas each with a private pool which is ideal for family vacations.
Family Villas Kamari
Kamari is a popular beach resort and ideal for family holidays as it has lots to offer, Kama Luxury Villas are 3 new villas with private pools.
White Villa Kamaris is an excellent option for a large family or 2 families traveling together, offering a total of 4 bedrooms and a private pool shared between the 2 houses.
Private Kamari villas is a collection of 5 villas which have a private pool or a private jacuzzi, they are located just 5 minutes walk from various shops, cafes, mini markets, and the long black sand beach.
Two of the villas offer 4 bedrooms, private pools and are about 5km from Kamari located near the village of Pyrgos.
The 3rd villa offers 2 bedrooms, a private pool and is located on the edge of Kamari Village just a few minutes walk from the resort center.
Agia Peraskevi Villas Monolithos area
Beach Villa Ricki is a luxury 3 bedroomed villa with private pool just 5km from Kamari in the area of Agia Paraskevi, this stylish villa is in a great location and offers first-class facilities.
Two sister villas in the area of Agia Paraskevi are perfect for 2 families, both villas feature private pools and great facilities. The area has several tavernas, mini market, and a small black sand beach.
Madalena Villa also in the area of Agia Paraskevi offers luxury accommodation with a private pool, main house with 3 bedrooms plus a separate studio for 2 persons.
The beach is just a few minute's walk away.
If your traveling in early or late season a heated pool is always nice to have so take a look at a new modern 3 bedroom villa also in the popular area of Agia Paraskevi.
Monto Private villa is close to local amenities and the small local beach which also offers a couple of good quality traditional tavernas.
Santorini Family Villas in village locations
Santorini has several delightfull villages with excellent local amenities including shops, minimarkets, and tavernas.
Staying in a village is more relaxing and offers a different style of holiday.
Megalochori has some lovely holiday villas including Mansion houses with 5 bedrooms and a private pool, which offers excellent value in a great location.
Several traditional village houses have been completely reformed to offer comfortable accommodation and many with private pools.
For something special maybe a Caldera View villa is what you looking for, these private villas offer 2 or 3 bedrooms swimming pools and a Spa for relaxation if needed.
Emporio village is just above the popular beach area of Perivolos and a great place to stay if you're wanting a more traditional style of holiday.
A newly restored Luxury House features 5 bedrooms and a private pool, it's only a few minutes walk to the village center. 
Popular Villages
Megalochori, Emporio and Pyrgos
Another new addition is to be found close to the village of Megalochori, this luxurious 2 bedroom villa is a great choice for a family holiday in idylic surroundings.
For larger families or maybe 2 families holidaying together villa Almera in Mesaria offers 5 bedrooms including a loft room, private pool and a great location close to the village center with lots of amenities.
Pyrgos Mansion House offers 3 bedrooms, stylish accommodation and a large jacuzzi plunge pool with wonderful views. Close to the village and all local amenities.
Oia Villas Santorini
The picturesque village of Oia is top of many people's list of places to stay and the sea view complex of Oia Villas is a perfect choice with 2 large shared swimming pools and several high quality villas for rent with 2 to 4 bedrooms.
Check out a selection of villas that are ideal for families large or small some are in villages others located close to the islands black sand beaches.
A collection of the best Santorini family Villas.