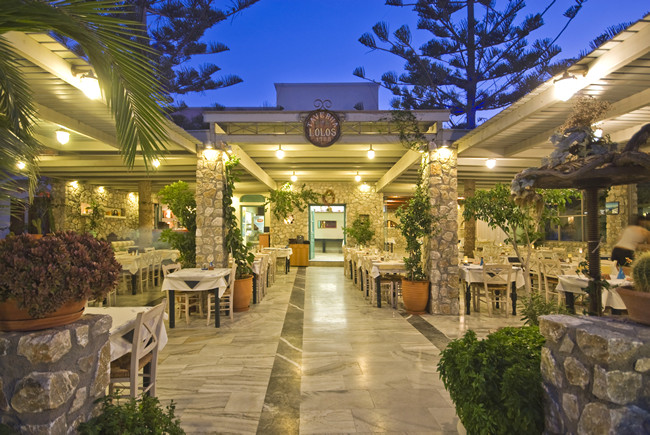 Santorini Best Restaurants
When on holiday it won't be long before you are thinking, where can I find Santorini's best restaurants? You are in luck, look no further…
For sure it's not difficult to find a place to eat but to find a good place to eat at a reasonable price will need some exploration. Below we have listed a number of good value restaurants/tavernas that offer both good quality food with sensible prices.
Ouzeri – Fabrika Shopping Centre, Fira, Santorini.
This typical Greek style Taverna is located just to the side of the Greek Orthodox Cathedral in central Fira and offers great views to the east coast of the island with distant views of the coastline. If your looking for a light lunch or a full meal this is a great choice as the menu is geared towards Meze style of eating.
The food is typical greek with many traditional dishes all cooked fresh and on site, nothing brought in from outside in this Taverna. The fresh sardines are a great lunchtime choice, they are deboned and grilled on sea salt nicely washed down with some house wine. Grilled meats, fresh fish and a good choice of daily specials are always available, try at lunch and for sure you will return for dinner. Great value and really good fresh well-prepared food.
Must add, try the home made Baklava which is made daily by the owner George simply delicious!
Metaxi Mas – Exo Gonia Village, Santorini
If your looking for that real Greek taverna experience with a village atmosphere and great views this could be the place for you. Inside is small but attractive and outside you will find the terrace with views down to the seaside town of Kamari with the island of Anafi in the distance.
Once seated, a selection nibbles normally olives, local bread, olive oil plus a small bottle of Cretan Raki will be delivered to the table to get the evening started and taste buds working.
The menu has a great choice with something for everybody including fish, meat, and vegetarian dishes.
The way to eat here is Meze style, so order a number of dishes and share, then if your still hungry order a little extra or try one of the tasty desserts.
If you ask a local where they go for a special dinner with friends or family many will say, Metaxi Mas that's why we must say that this is for sure a Taverna to give the label " Santorini Best Restaurants "
Always best to book as busy with locals and visitors.
Taverna Lolos – Kamari Beach, Near hotel Rose Bay.
Located at the far end of Kamari beach away from the hustle and bustle, here you will find good quality greek food with friendly service. The owner George is from the island and looks after friends and visitors, in the same way, making sure you have a great experience each time you visit.
The extensive menu has many of the old favorites including Moussaka, Souvlaki, various fish options, tasty salads and house specials which are well worth a try.
If you're staying in Kamari or visiting for a day on the beach, it's worth taking the time to find Lolos for a light lunch or a tasty dinner.
Taverna Gallini Monolithos area
Overlooking the sea in the area of Monolithos, this high-quality taverna offers a great selection of typical Greek dishes, tasty grilled meat, and delicious fresh fish. The food is excellent and the service friendly, the menu consists of Greek kitchen dishes like Mousaka, Aubergine in the oven, Omam(Oven-roasted vegetables in olive oil) plus many starters including all the favorites and more. Freshly grilled fish, excellent, meat including first-class Lamb chops and choice of local wine served in a carafe or impressive selection of bottled wines.
This is an excellent taverna which is defiantly worth a visit, around 10 minutes from Kamari and 15 to 20 minutes from Fira by car.
Represents good value and a lovely location.